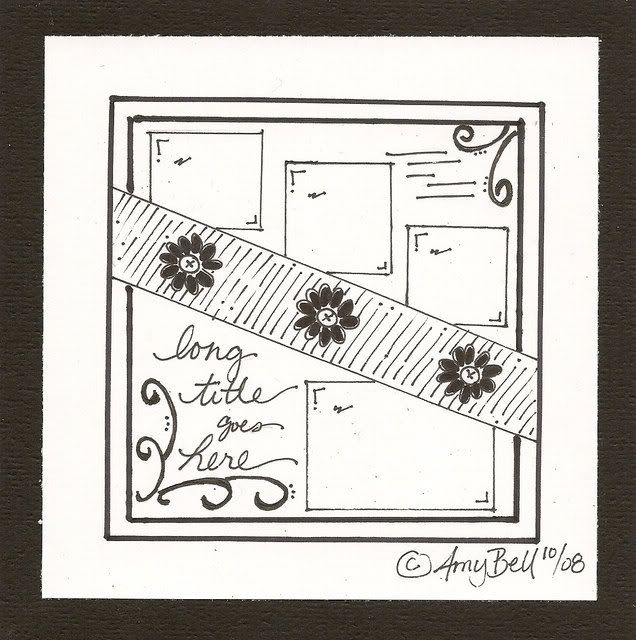 This is the start of something GREAT! Our first-ever challenge here at the new Feeling Scrappy. I feel like a kid in a candy store, absolutely giddy with excitement!

Here is the challenge, should you choose to accept it. (And you really should, because the prize this week is very sweet!) Sketchapalooza 2 is just around the corner, and all of us on the design team are working hard to come up with some fresh, fun sketches to inspire you. For this week's challenge, we are releasing one of the sketches early to give you a sneak peak at what is in store during the class! And to further sweeten the deal, the lucky winner of this challenge will be able to take the Sketchapalooza class for ABSOLUTELY FREE - a $25 value!

Here is how this challenge (and those to follow) will work. All layout submissions are due by next Wednesday, October 15. Layouts can be submitted by providing a link in the comment section of this post. All layout submissions must be new and created for this challenge. Our prize winner will be randomly drawn from all those who submitted the completed challenge by the deadline. The winner will be announced on Friday, October 17. While we welcome and encourage everyone to participate in every challenge regardless of their geographic location, only US residents will be eligible to win prize packages when mailing is involved. HOWEVER, because this week's amazing prize is the free class, both stateside and international scrappers are eligible to win! How great it that?!

The other members of the design team and myself have come up with some examples to help get your creative juices flowing. We are so excited to see your pages! Happy creating!


Amy Bell
Becky Rico
Jayne Jones
Stacey Lokovic